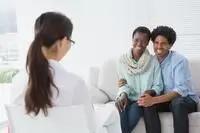 When I provide couples counseling there are some characteristics or attributes that seem to signal a higher chance of improvement, regardless of whether they are attending for communication issues, or an emotional or sexual infidelity. This is a brief listing for your contemplation.
BOTH want to try and work on the relationship in a genuine and committed fashion that acknowledges the need for MUTUAL improvement (NOT fix my partner!)
BOTH are willing to not only put in the effort and work in the therapy session, but outside in their day to day life.
BOTH are open minded to new ideas, concepts, modes of communicating and working together.
BOTH maintain their commitment and effort as a priority over other areas of their lives that are best as secondary.
BOTH understand that it may be HARDWORK and may take some time to find their desired goals.
This next listing is more in the area of characteristics or as some would say personality, that includes a level of awareness and insight.
Couples that are able to identify how they are feeling.
Couples that can extend empathy towards their partner (understand partner feelings)
Couples that can demonstrate patience with their partner.
Couples that can manage their volatility and anger.
Couples where each person has the capacity to recognize self flaws, and acknowledge those flaws and accept responsibility.
Couples that are curious, learners.
There are many more pieces of this puzzle and a multitude of variations along a continuum of each that are helpful during the therapeutic process. These listings are here more so for an opportunity or self observation to see where you may fit, and just as importantly where you may not. Even if someone, or both, does not have some of the attributes or characteristics mentioned above it simply means you are quite human. The listing is best used as a guide to personal growth. This is why it is very important for couples to also utilize individual therapy while engaging in couples work. For couples counseling, contact us at Stoneridge Counseling in Pleasanton.